Directional Crystal Growers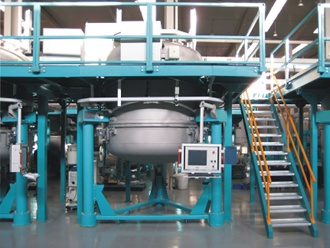 The multi crystallizers are designed for directional solidification of multi-crystal solar silicon ingots for photovoltaic wafer production.
The directional solidification systems of JYT Corporation include 4 models. They have capacities of 270kg, 450kg, 550kg as well as 800kg. The furnaces JZ-270 and JZ-450 have the same chamber size as well as JZ-520 and JZ-800. They only differ in the hot zone size.
| | JZ-270 | JZ-450 | JZ-520 | JZ-800 |
| --- | --- | --- | --- | --- |
| Maximum charge | 270kg | 450kg | 520kg | 800kg |
| Typical ingot size (LxWxH) | 690x690x245mm | 840x840x270mm | 840x840x330mm | 990x990x340mm |
| Cycle time | 48h | 60h | 65h | 70h |
| Data sheet | download | download | download | download |
Features and Benefits of JYT's Directional Crystal Growers
Charge capacity up to 550kg with process guaranty

Expanding capacity up to 800kg

With the world's largest current ingot loading capacity of 800kg these furnaces reduce electricity consumption and capital expenditures, while increasing production efficiency

Large average crystal grain size (15-30mm)

Very reasonable prices and best overall value

Advanced yet proven equipment technology with user-optimized design

High quality products with reliable performance

Renowned companies such as the largest wafer manufacturer LDK Solar already take the advantage in operating these systems in serial production. More than 1000 units have been sold so far